Hi all,
I know, I'm very late ! Between X-mas preparations and this latest project, I was a little overwhelmed to get to my deadline on Monday. I wanted to close the year on some big news from my apartment so I gave myself a few more days in order to bring you the last makeover of 2016 !
I have the terribly annoying tendency to get an idea in my head – that needs to be executed right away like my life depends on it – when I'm already overwhelmed with many other things. It's like procrastinating in reverse ….
I've been juggling projects and had decided to put off the wall makeover for January so I could get some rest. So of course, once I added some more onto my plate, like having to run around all over Paris looking for presents, that's when my brain decided (without me), "let's makeover the walls now".
Because lots of work + carrying bags and bags of presents + falling asleep as soon as I get home apparently = perfect time to put up some wallpaper !
Now that it's done, I'm glad I did it though. Sure I'm leaving and won't spend any time at home until said January, but crazy is as crazy does … I had to do, folks. Now, even though I won't be here, honestly it feels amazing to fill this empty white space ! Unfortunately the weather has been super crappy this week in Paris so these pictures are not so great, but I'll give you guys a better look in the new year. Oh, how everything will be better in the new year …
So for this "wallpaper" project, I decided to make over two opposite walls. The window wall :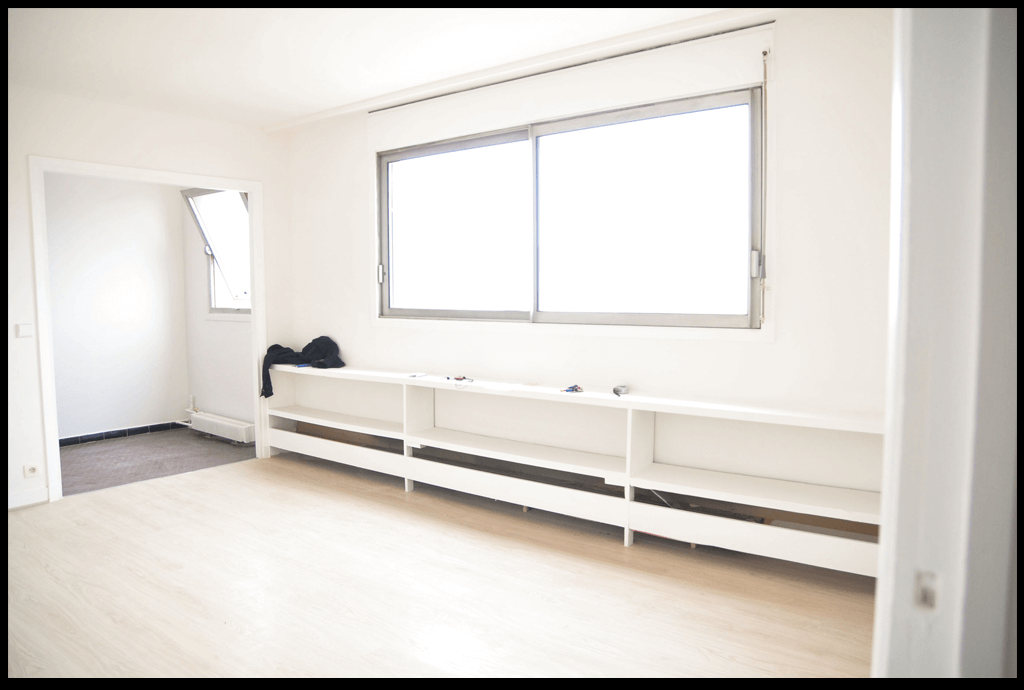 And the closet wall :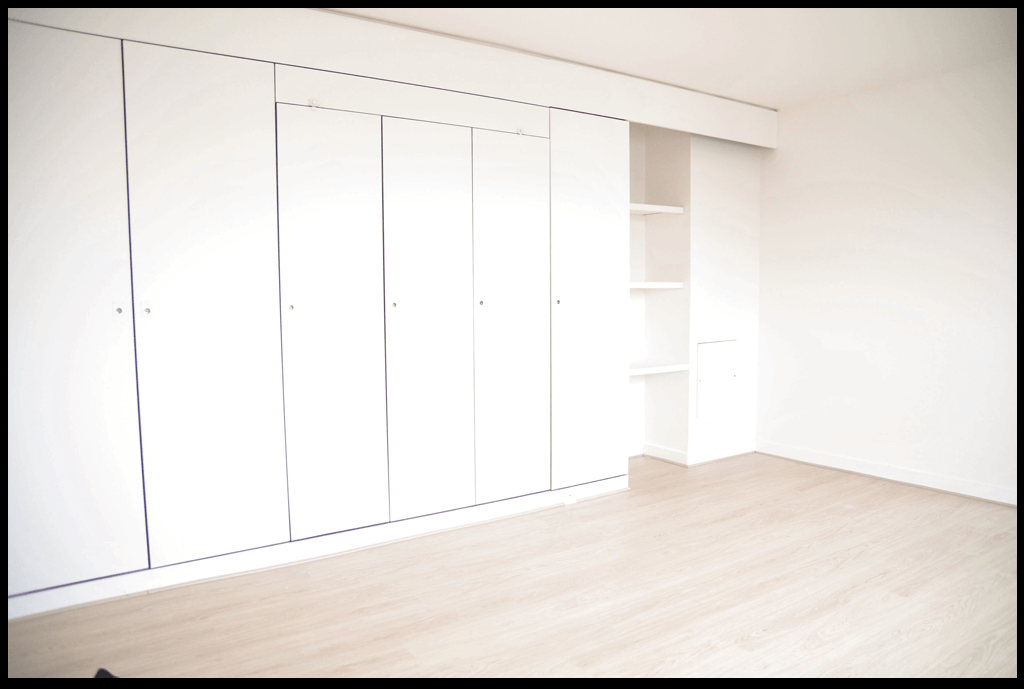 I haven't talked about this side in a while, but basically there are two closets on this wall, and the three, smaller, middle panels are hiding a Murphy bed. I love the built-in bookshelf at the end there but it has weird proportions (very deep shelves) so I've yet to master them to my liking. I know I'll paint or wallpaper them too later on, in a contrasting pattern or color.
So this wall is very functional, but I'm not crazy about the look of all those closet doors. At first I was inspired to make them classier : there's a lot of cool doors DIYs on Pinterest I could have tried, particularly this great one from PopSugar. But at the end of the day, as much as I love those ideas, I also wanted to cover it all up and make the doors "disappear".
Now it's not the most original pattern I could've chosen, but I've been dreaming of doing this in all of my previous apartments, so I finally went for it and got my NYC on with red brick wallpaper !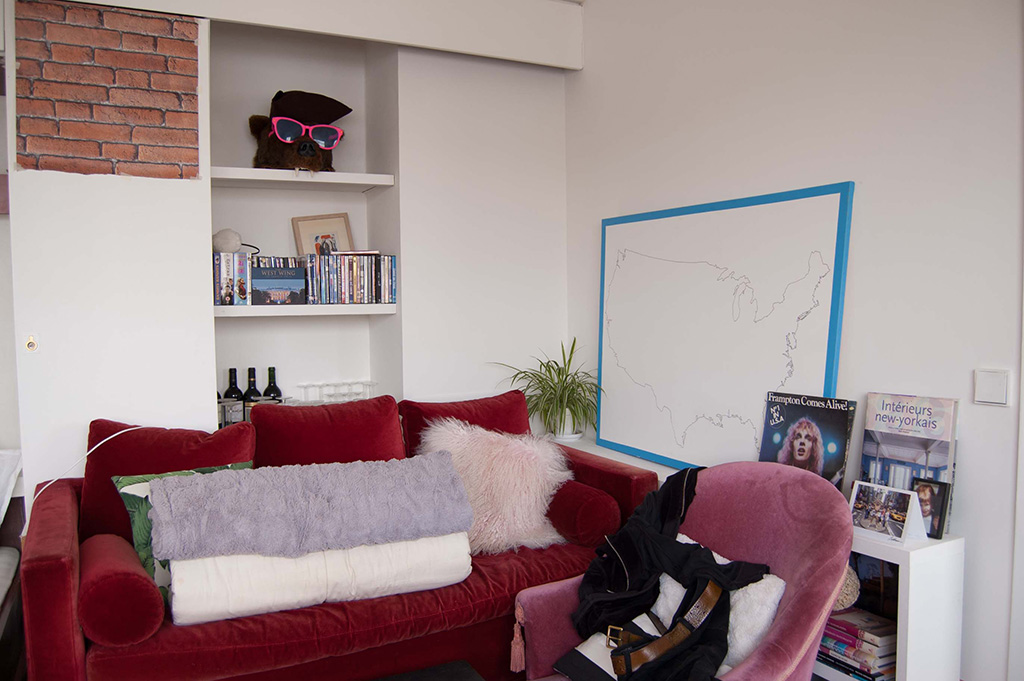 I got a sample to try it out, and I was particularly happy with the result next to the red sofa !
Now let me remind you, this is a rental and while I will paint any wall without hesitation, wallpapering is a whole different ballgame. It's a pain to remove, and red brick is definitely not going to please everyone who comes in after me. So I did some research. Temporary wallpaper is very much a thing but it's still in its infancy. I read both great reviews and really terrible ones, most of the brands I found were very expensive, or the shipping rates from the US were insane, and to top it all off, there was no brick ones I liked. I think it's a great solution but it must depend heavily on the surface to which it's applied. I have matte finish on my walls and everything sticks to it so I felt like it was too much of a gamble.
Meanwhile, in Paris, in my favorite home depot store, I found the perfect one, and pretty cheap too. So I decided to wing it and use my brain to come up with a solution (since then of course, I've seen found people who used the same technique because I ain't no genius!). I purchased a bunch of wallpaper at 16$ a roll, some frog tape and double sided tape, and got to work.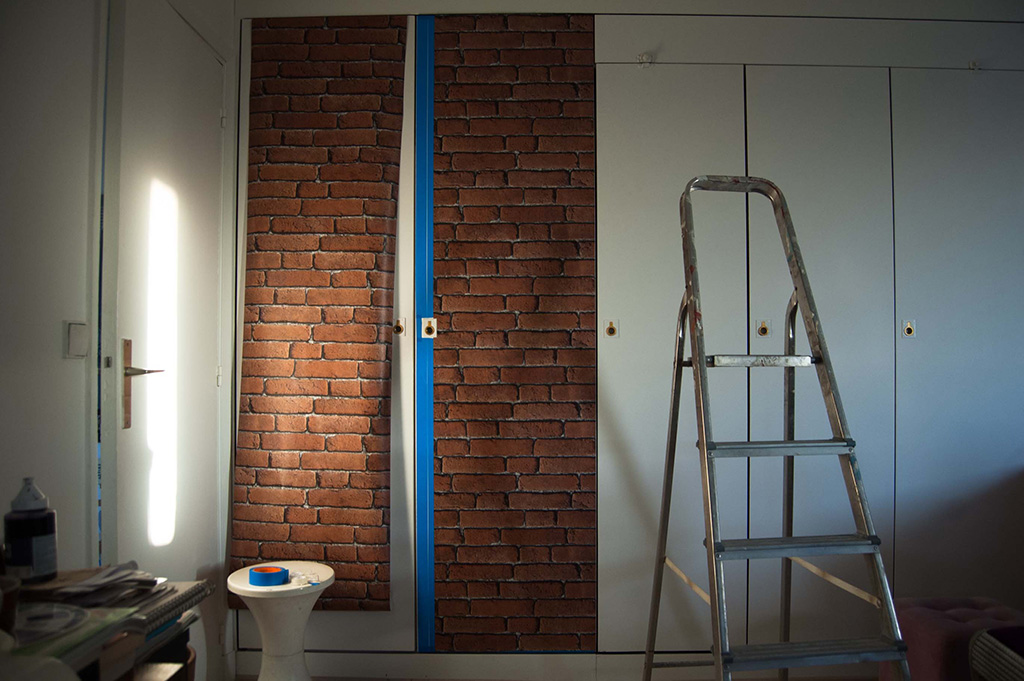 The width of the roll is a little smaller than my door so I had some fun cutting to do on … Every. Single. Door. Grr.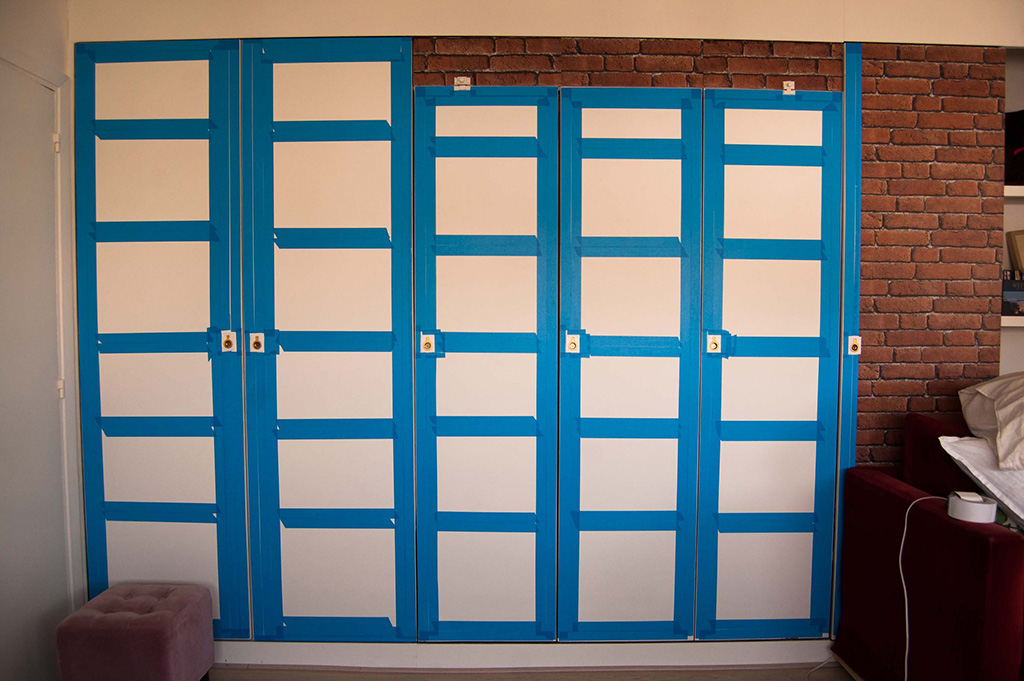 On the doors, I made a grid of frog tape to make sure the paper was secured in enough places. (Made over at night of course, to insure perfect pictures!)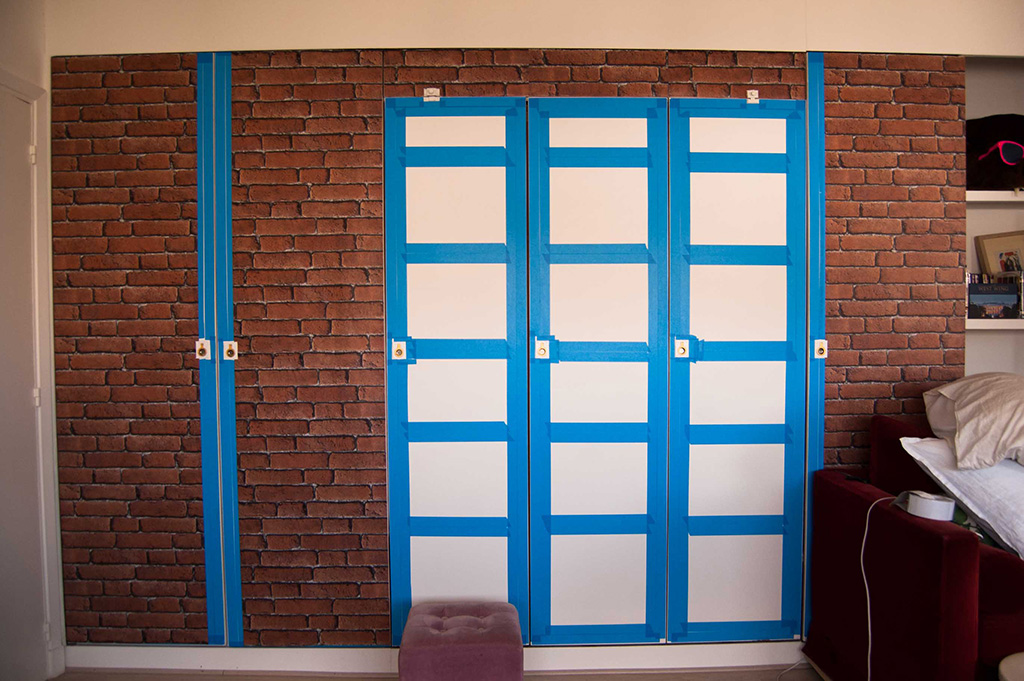 Then I rolled out the wallpaper from the top, making sure to flatten it on every spot of the double-sided tape. It's a pretty simple procedure, just very, very time consuming.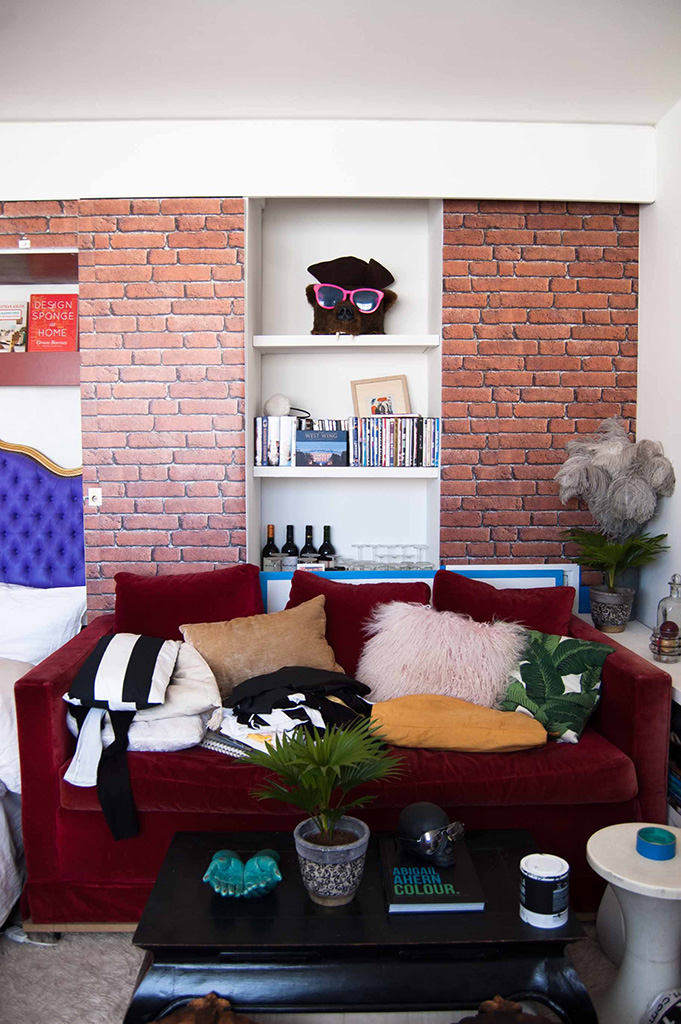 Finally some natural light but what a mess ! I loved doing the little wall portion on the right to really frame the built-in shelves. It's giving me a better sense of what to do with it !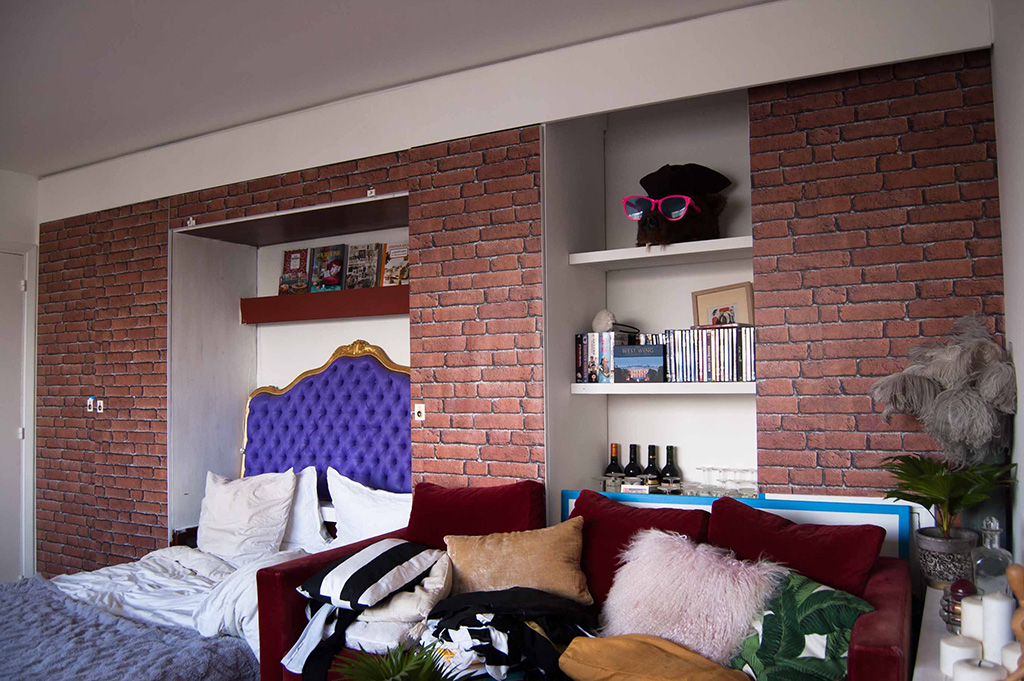 Oh boy, more crap. Sorry guys ! Okay so hours of taping and cutting later, voilà ! Pretty good, right ? Now, I know you can spy a new friend : my very sexy headboard. I haven't been home enough to cover its story and DIY, but I promise to talk about it next year !
And on the other side : ba-bam ! So this is my own version of temporary wallpaper. Like I said : I winged it, so I'm waiting to see how long it'll hold, if summer heat will make the tape melt, and all those fun adventures that await the next few months ! I'll keep an eye on it but so far, it looks pretty – for lack of a better word – "sturdy".
The last thing I showed you was the shelves, so here's a little before and after :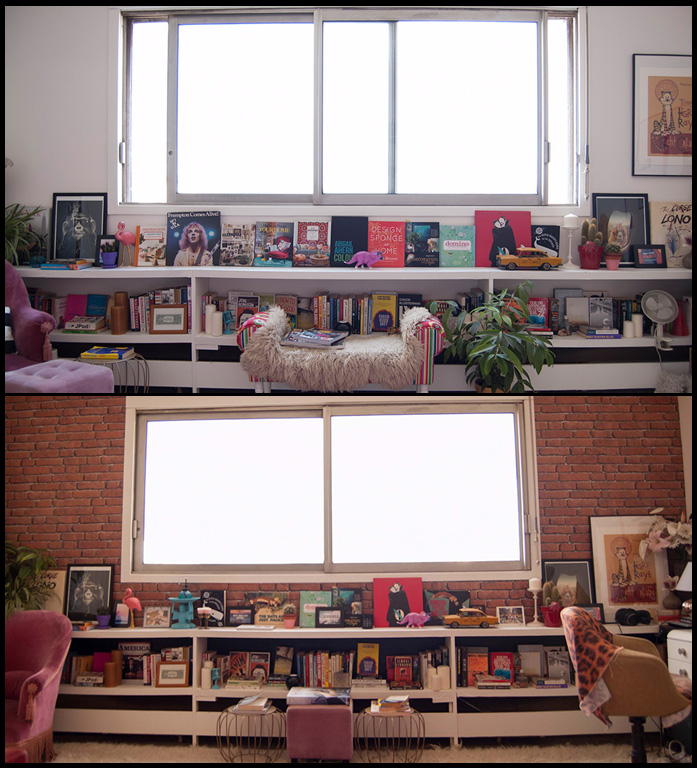 It feels soooo good to have some color and pattern in this place finally ! I only did these two walls because the other two have their own special purposes. Above the desk I have big cork boards to put up inspiration and work stuff, so visually it already takes a lot of space, and on the opposite one I'll put up some art so I left it blank for now. The wall with all the closets can't hold any heavy decor because the doors are so thin, so it was a perfect candidate for some pattern.
I'm also so freaking glad to finally see bricks when I come home ! I've been trying to trick my brain into thinking I live in NYC  for years so this will help !
Alright my peeps, this is the final post for 2016 as I am officially exhausted and Christmas isn't even here yet. This year has kicked my ass and I can't wait for 2017, but at least I'm ending on a high-note, with red brick on my walls ! Hooray for small victories !
Enjoy the holidays with your loved ones, and get extra crazy on New Year's, we deserved it. See ya in 2017 !
Save
Save
Save
Save
Save
Save