Hey guys, I'm back !
So while I was away I had some time to go thrifting (finally !). One thing led to another and I now have a thousand new projects in waiting, which is both very exciting and inevitably super stressful. I've been amazed by DIYs from Pinterest for years and have written down countless ones I'd love to try myself, all to be forgotten in a poor, tired notepad somewhere. But these recent thrift-store finds have renewed my interest in it and I'm ready to dive in more seriously. Of course I'm going from 0 to a 100 right away, and I'm looking up how to re-upholster sofas. Crazy lady. In trying to find a middle ground I'm going to start with the projects in my own home that have been kept waiting.
First off, I'm focusing on my itty-bitty entryway. I'm not kidding, look at the size of this thing :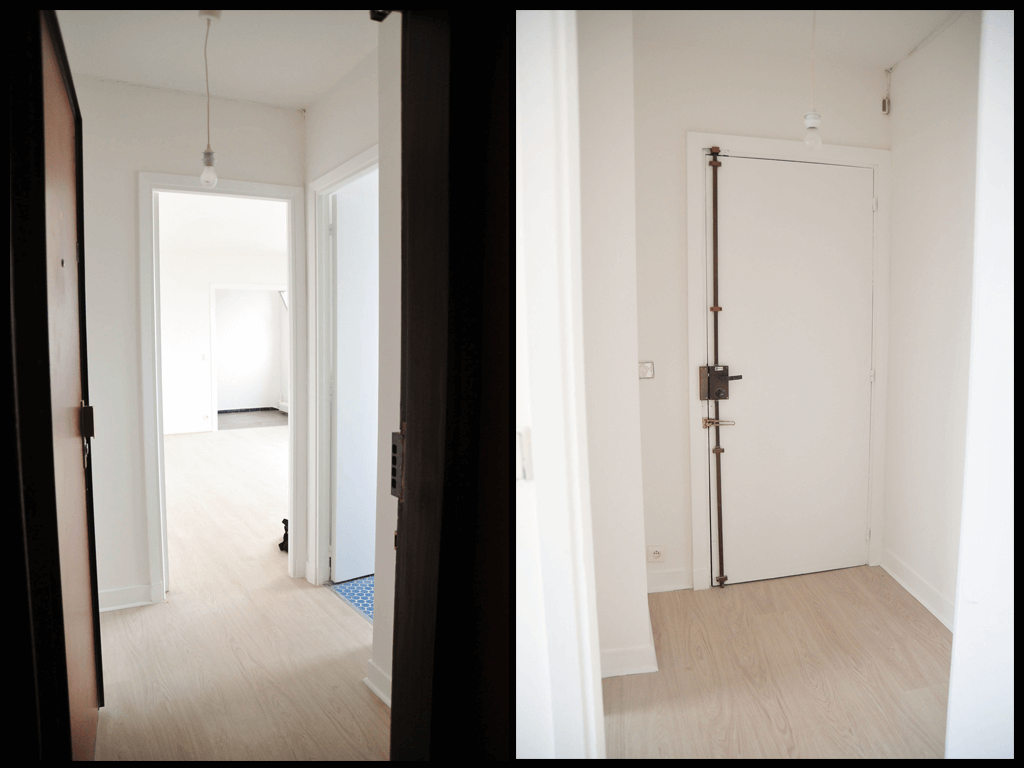 Tiny, tiny, tiny…
Now these are pictures from the day I moved in, obviously. I'd love to share with you what it looks like now but trust me, you don't want to see it. It's basically a junk yard. I've got all the unused decor from my old place I haven't sold yet, lots of leftover wood from different projects, shoes everywhere. It's a mess, so let's pretend we're starting fresh.
Since the space is so small I'm going high impact ! You know it's my "year of being bold" so I have but one word for you : Beetlejuice.
(For those of you who don't know me, it's really not that weird, I own a pair of pants AND a jacket with Beetlejuice stripes. Too much? I think not!)
So here's what I'm thinking : Striped black & white walls. Vintage oversized pink lamp. Gallery wall with Baroque frames. Chinese cabinet. Boom.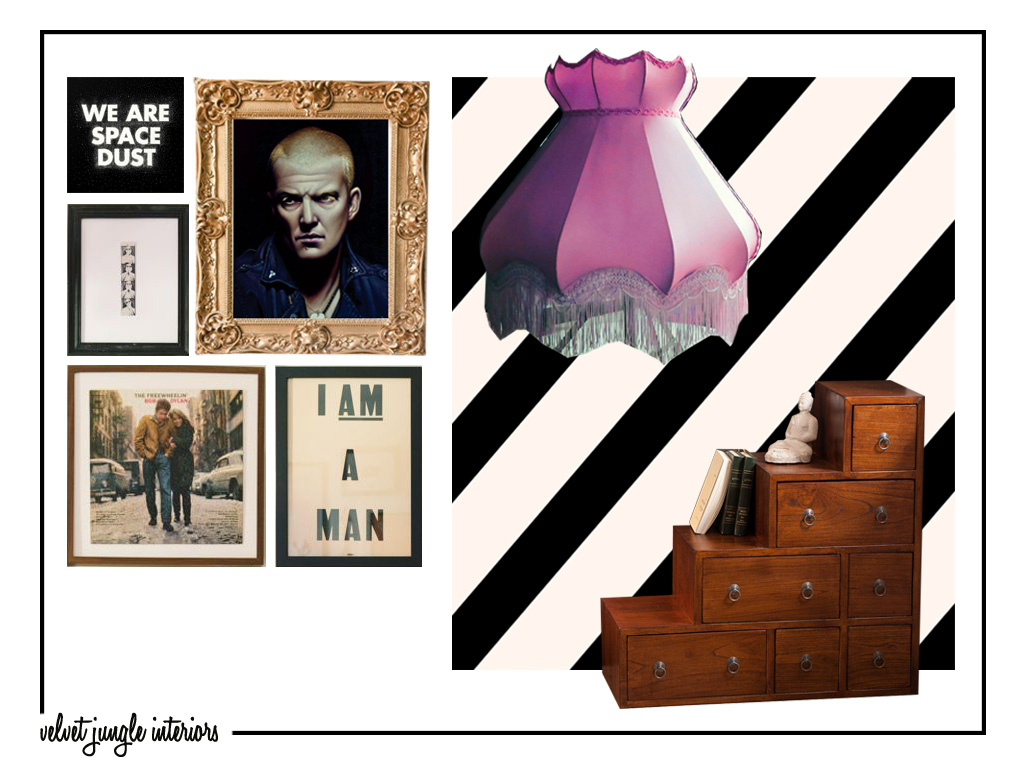 While I was away I found this scrumptious Victorian lampshade. It was 10$, Gigantic (I mean it, look at that G), and like all my favorite things : with fringe. The only issue is the color. I'm not crazy about the old yellow vibe. So like any rational person I decided to buy it and learn how to change the fabric myself. (cue record-scratch)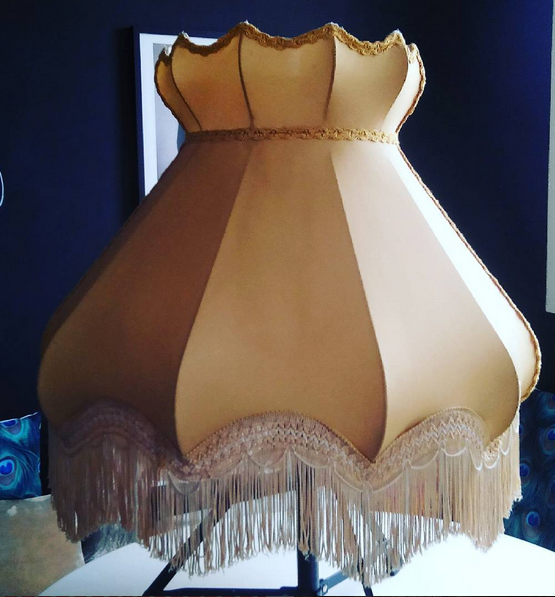 Yup. So I'm either gonna make a giant mess of this or actually pull it off. I know I want to go pink but I might end up getting jiggy with it and get some fancy designer fabric. While I was doing some research on "how the hell am I gonna do this" (don't type that into Google, you're gonna regret it) I happened upon this amazing shop called Wild Lampshade Designs which totally inspired me. Check these out :
Yes.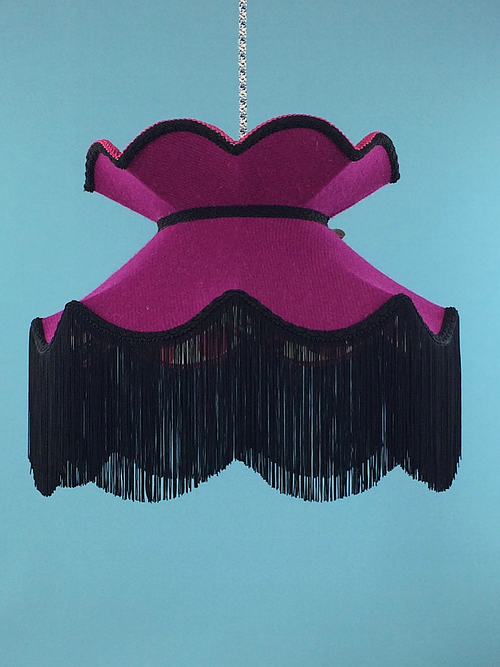 Yes.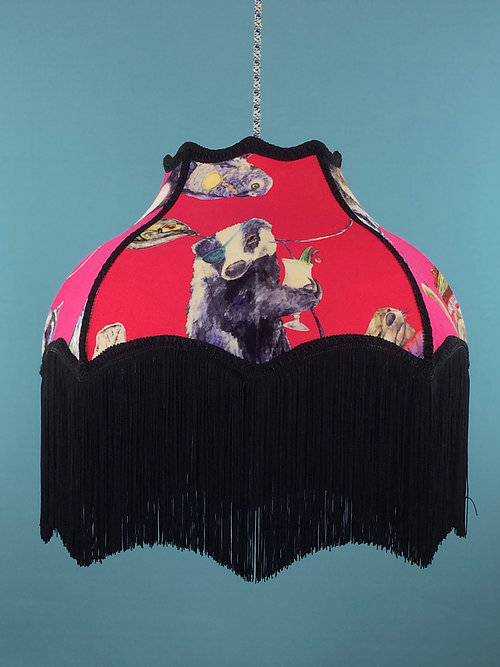 Yes.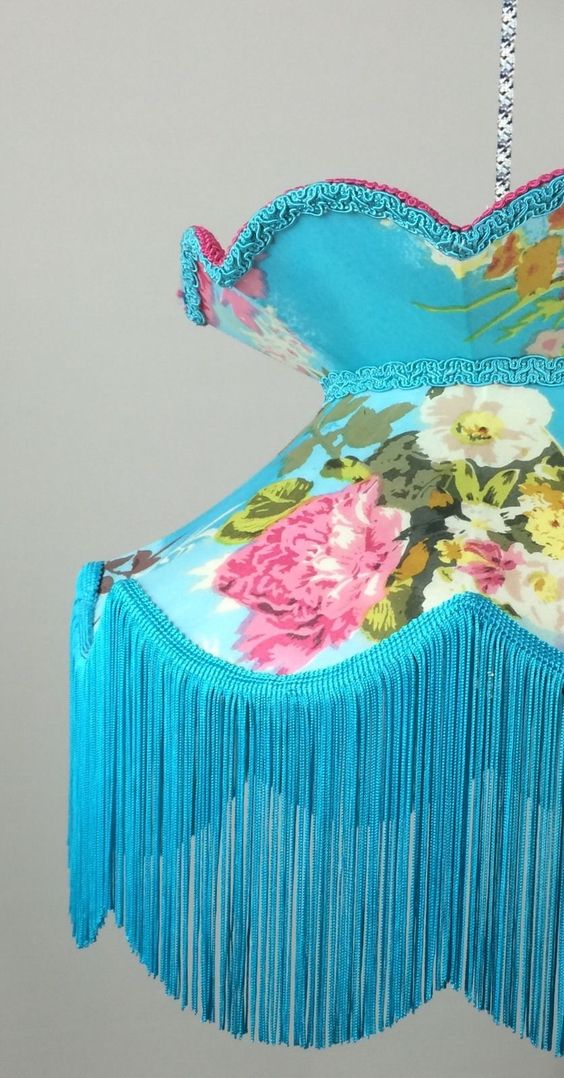 Also, yes.
Okay so I'm a bit obsessed, I get it. If you are too though, you can follow them on Instagram or check out the ebay store : WildLampshadeDesigns and go crazy.
What I truly love is the high contrast. A bold choices of fabric and fringe. This is double-take design my friends ! (And pick-you-jaw-off-the-floor design too in my case).
I think this love might spread to my living room actually because some of these shapes are too awesome for words.
It just so happens that next week I'm going to a huge designer fabric discount event where I intend to stock pile some crazy cool fabrics so I'm just gonna have to find a perfect pink one for this beauty. I'm also on the lookout for fabrics to cover poufs, throw pillows, and any kind of furniture I can get my hands on (for the aforementioned insane desire to reupholster stuff).
Alright, moving on to the rest of the room. I've been looking for a Chinese stair cabinet for a while. I had two very very cheap ones pass me by a few months ago and since then I can't seem to find what I'm looking for, so I weep for them in the dark. The space for furniture is very limited because of the door opening, so the three-stairs version of the cabinet is the perfect size to fit with the door open. It's a small piece so I'm thinking of adding some interesting legs to it to heighten it a bit, and I'll probably customize the pulls as well. For now I'll stick with original wood because I think it looks great, but I've seen some red lacquered ones I'm really into so maybe it'll change over time. (Can't stop, won't stop!)
Gallery wall wise I don't know what art I'll be putting up yet but I intend to fill up the main wall. Since I can't put all the art in the living room I'll be using the entryway as well that way I can switch up things more easily. I do have that Josh Homme portrait, it's painted on velvet, and it's weird and perfect.
Now final item : the stripes themselves. I'm trusting my Pinterest instinct on this one and trying out Washi Tape ! You know I'm pretty mindful of my renter's walls in this place (see my home-made temporary wallpaper). Paint is no biggie, I can cover that, but wallpapers can ruin walls (and lives probably) so I ain't down with that, and I wanted to try something a little different. There's this wider washi tape made for home decor that's been out for a while and I'm dying to try it, it's called MT CASA.
I went with 4″ wide black tape and I'm just gonna wrestle with it. It'll probably be a bloodbath. Math is not my friends you guys.
I worked up a little mock-up on Photoshop to give you an idea of "look" as well as the actual size of the lamp ('cause it's a biggie!).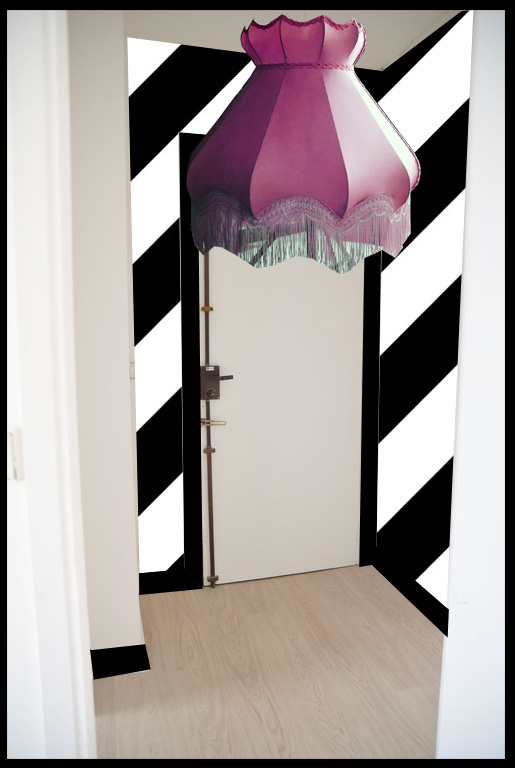 View from the living room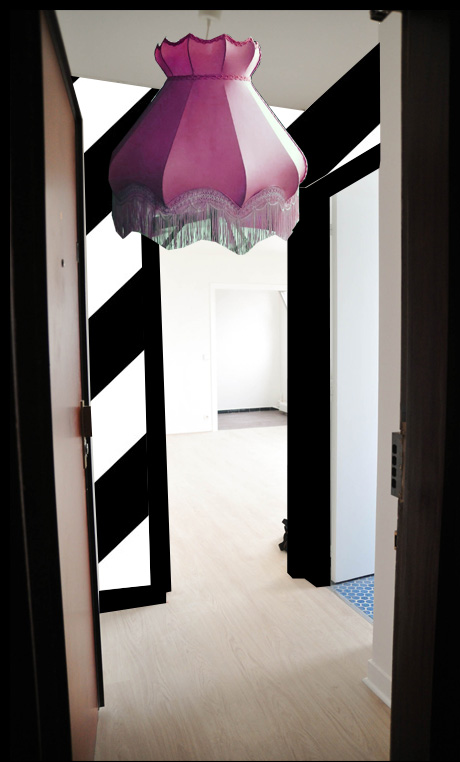 View from front door
So here you go ! I am super excited about this project it's going to be bananaaaas ! I hope you enjoyed this little sneak peek, I can't wait to get starteeeeed. (Why I am Oprah all of a sudden?)
Next up in my DIY makeover frenzy is going to be my desk so more on that next week. Have a good one !
Save
Save
Save
Save
Save
Save
Save
Save