Hey y'all !
So today I'm doing a post to bring you behind the curtain and share something I'm totally stuck on. Prepare for a terrifying journey inside my braaaaiiiin !
Revealing my finished Beetlejuice walls was a major high and the feedback has been amazing! Not to mention seeing it every day still makes me smile !
But of course, being who I am, the high wore off pretty quickly, and I started stressing about another unfinished project
… my built-in shelves. This is basically the last surface in the apartment I have to dress up, and the endless options are driving me crazy !!
The wall above my desk is staying white since I have all-pink artwork to frame, a shiny green desk on the way, and disco balls up. So it might be time to stop.
The built-ins are the last really in-your-face white space and I've been racking my brain trying to figure out what to do with them color- and pattern-wise now that the apartment is really filling up. And let me tell ya it's not easy making a color decision in a multi-color home !
I haven't really showed this side of the apartment yet for this very reason, so this is a total exclusive…
I know, you're thinking "how is there another side to this tiny apartment?", why it's the mysterious bed of course !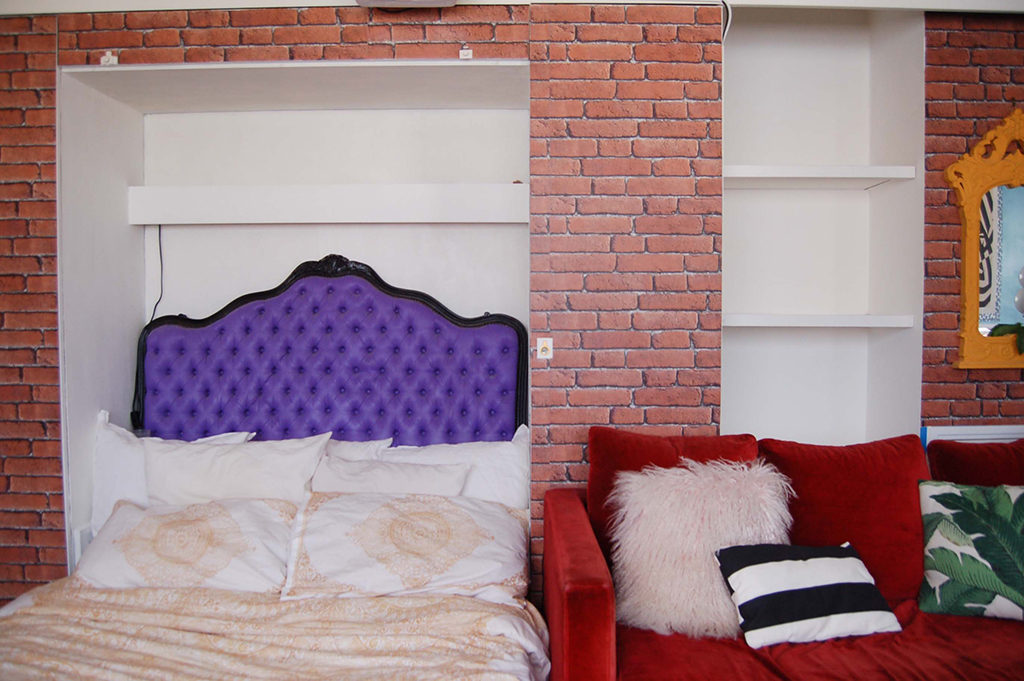 Don't judge my poorly-made bed… it was piled with books and crap seconds before this picture.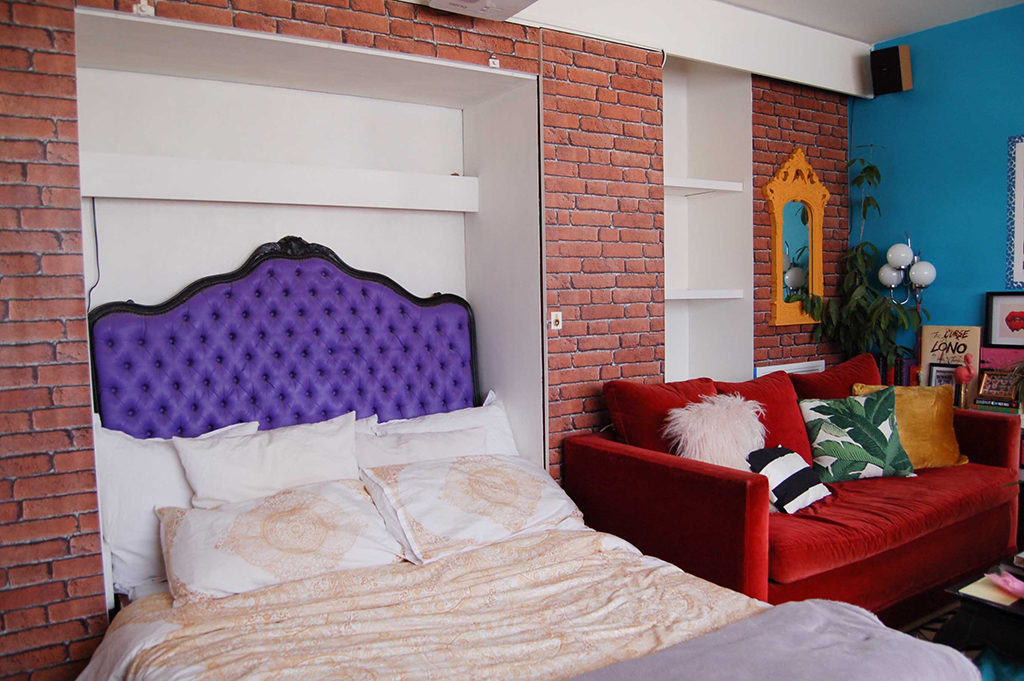 Ok, so once I took out all the art, the books, the accessories, we are left with very white and very boring shelves. The inside of the Murphy bed actually used to be dark brown, so it could definitely be waaay worse, but I'm still not happy with this situation.
I want to cover the back of the shelves on the right, and I've yet to decide if I'll match it above the bed, but I know I'll leave the bottom for hanging fabric.
I do like the idea that both sides are matching, especially with the brick in between, so when you open the bed it's like a fun, but very tiny surprise-party ! (It doesn't take much to amuse me)
To add some fun obstacles to this venture, the built-in shelves on the right are very deep so it's not very easy to style them. The shelf above the bed on the other hand is the opposite and can only house one row of small paperbacks or picture frames basically. This apartment is a puzzle…
I want to keep the momentum going and find a real show-stopper, something that'll add another layer of both crazy and cool ! But mostly crazy.
Now before you freak out, as you know by now, I protect my walls, so all of these ideas would work with a removable foam cardboard backing. Easy to remove if I want to mix it up or clean the dust. The backs of the bookshelves are static so I wouldn't even need to attach them to the wall, just prop them up, easy peasy !
So here are some of the ideas that have been floating around in my head. First off, here's a few patterns I considered for this :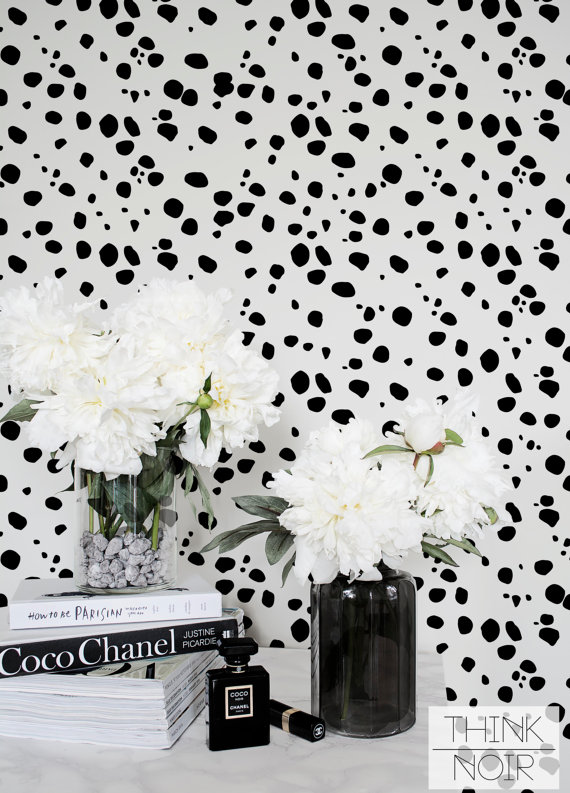 A cute black and white Dalmatian print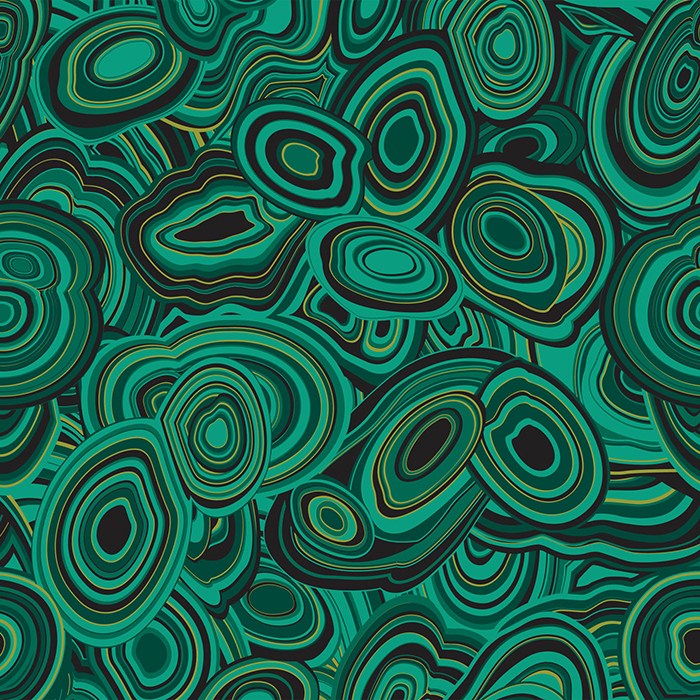 This gorgeous malachite pattern by Jonathan Adler (which I can't afford but maybe I could fake !)
These fan-freaking-tastic peacock feather patterns from Spoonflower ! In a twist of fate, I actually have the green one on throw pillows in my kitchen.
I lurv, lurv, lurv this flamingo pattern but I see it everywhere now and done in very cool ways, so I don't think I can one-up it !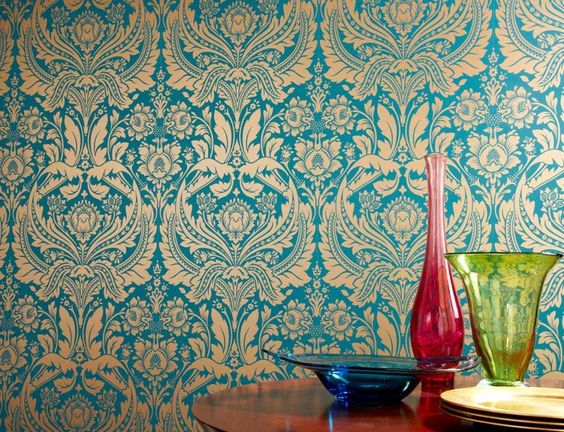 Love this beautiful, intricate, blue Damask-looking wallpaper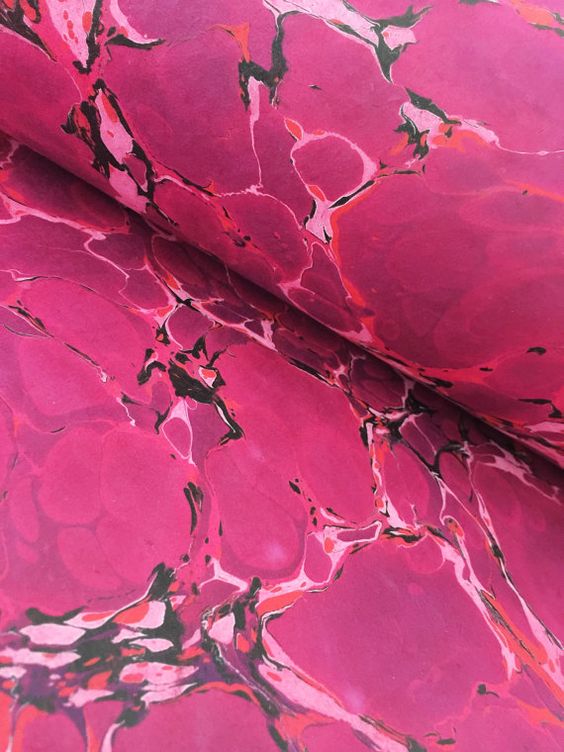 And I'm still pretty into marbled paper …
Ok, these are all pretty standard wallpaper options. Wildy different, and I haven't even settled on a color as you can see, but they're pretty straight-forward.
Now that's all good and well but then I started thinking … what about texture !?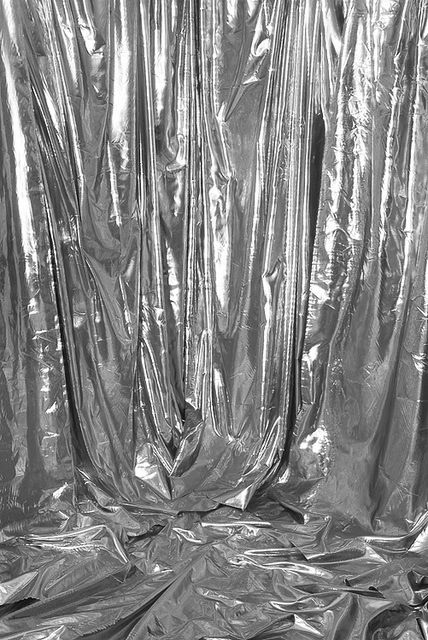 Like silver lame fabric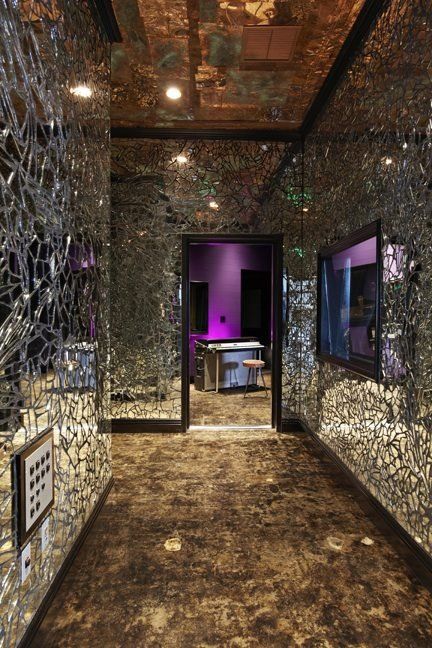 Or broken mirror-mosaic ??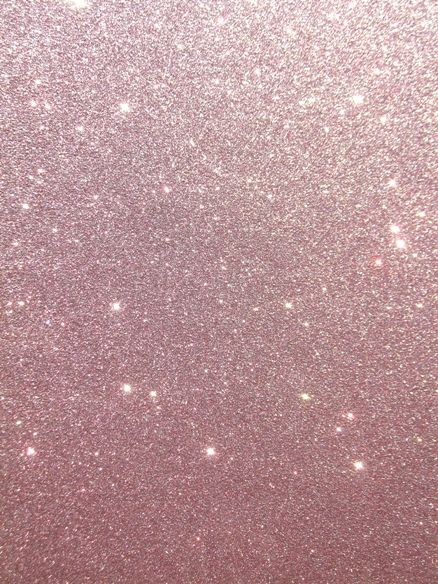 Or a DIY glitter wall…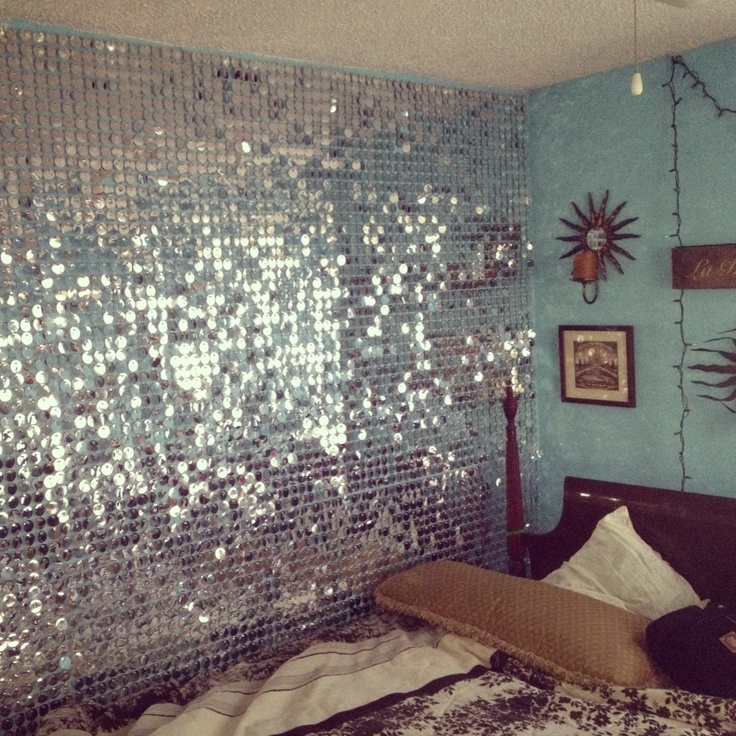 Maybe even a full sequin wall to match my actual disco balls !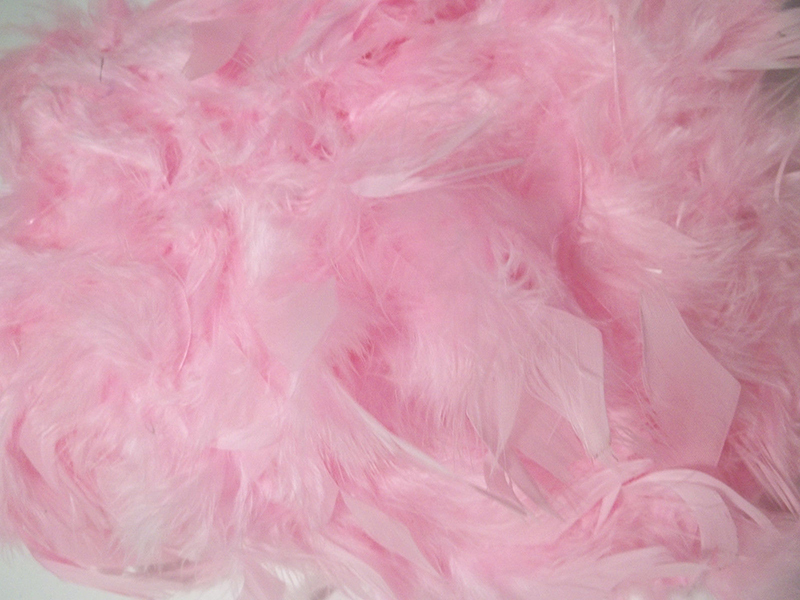 Or perhaps a pink feather boa-style wall …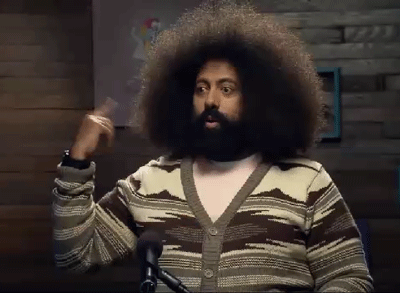 So here's my little round-up … I'll be staring at this for a while, let me know if you see a clear winner or if you have a revolutionary idea !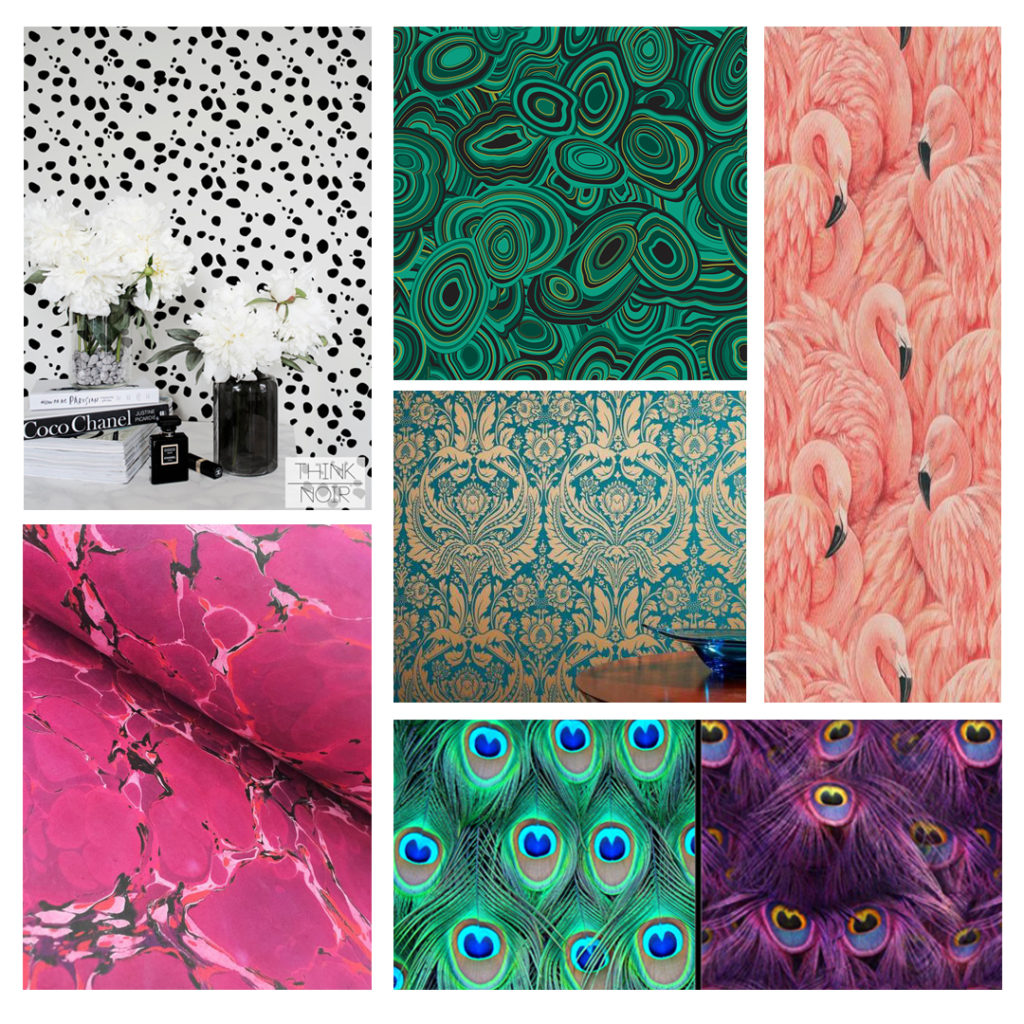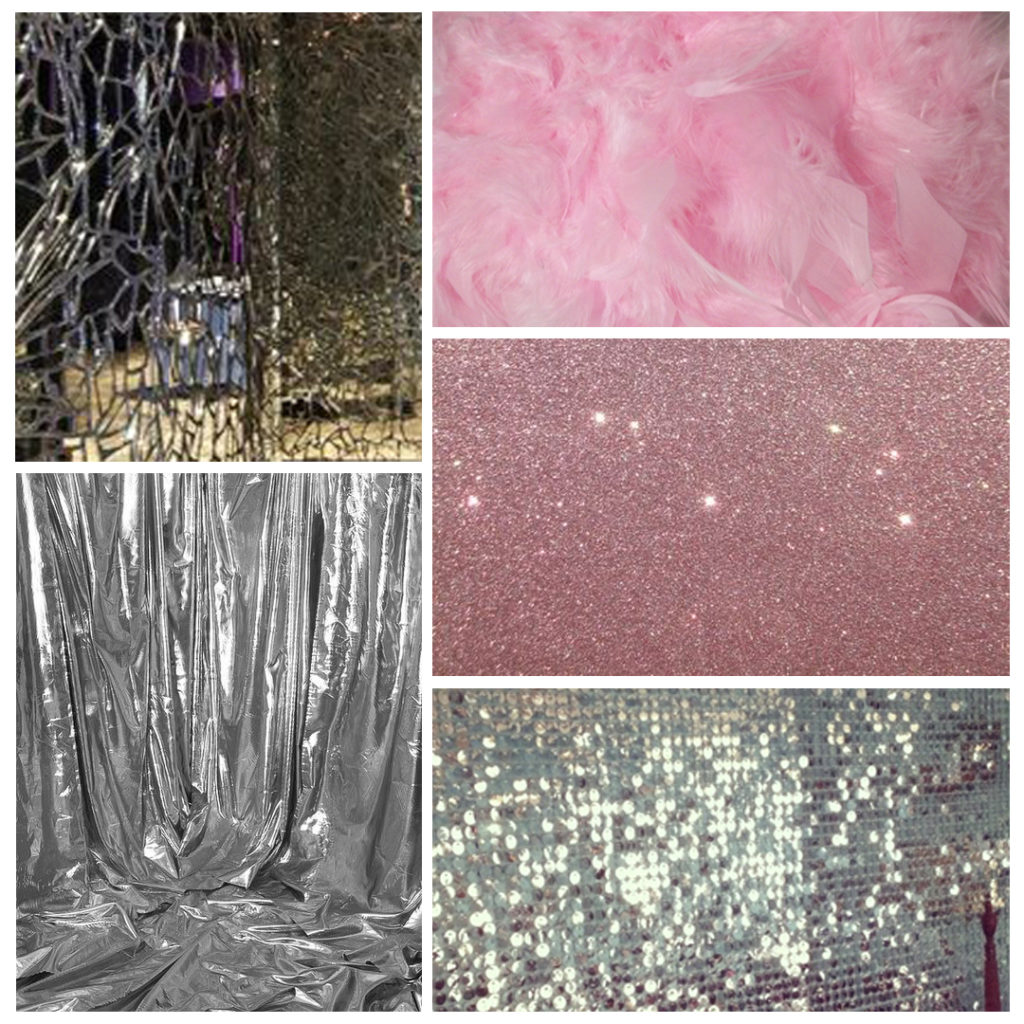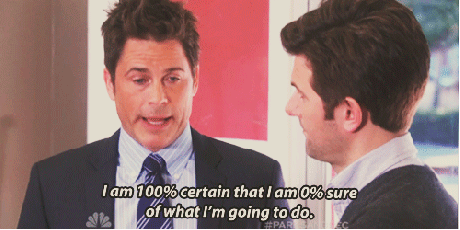 Have a great week !
Save
Save
Save
Save
Save
Save
Save
Save
Save