Hi all !
Very quick update today since things are moving along swimmingly on site.
First up, the big change today is that most of the big pieces of furniture are gone. This is great for two reasons, one, workers can finally spread out and not have to work around it, and two, it's a giving me more and more of an idea of the final space, so it's really helpful !
So I went by yesterday to move out the furniture and took a few pictures of last week's progress :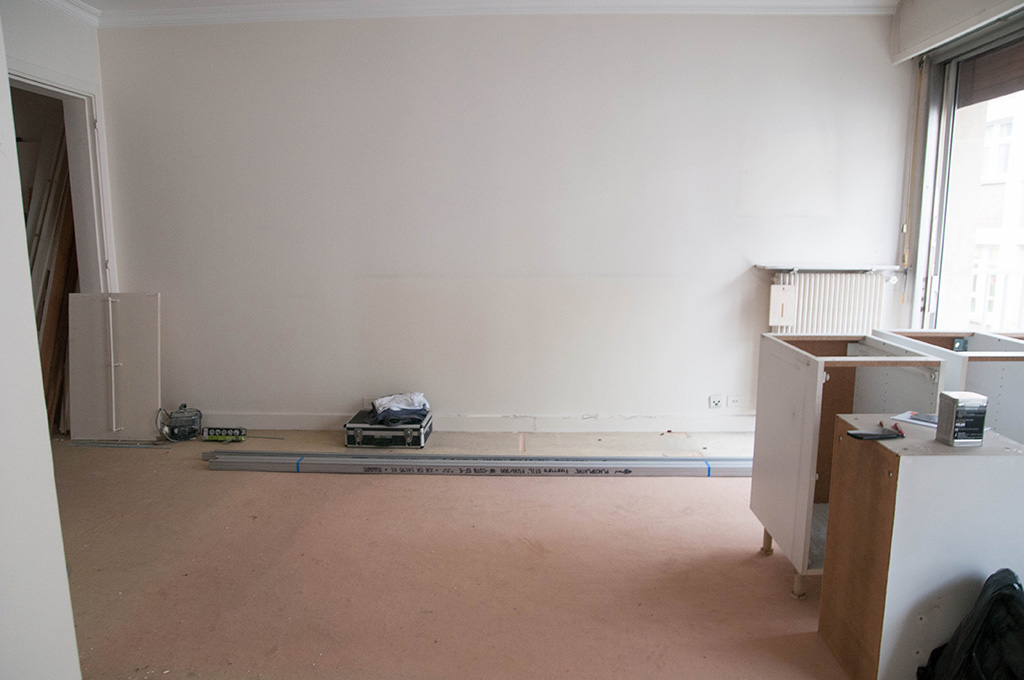 It's empty (-ish… baby steps…), yay !
The biggest "progress" for this week is that kitchen was almost completely ripped out. Honestly this feels great because I think the cabinets were from the first ever generation of Ikea. Fair warning, there's not much natural light in there and the power is off, so these pictures straight up suck ! Plus it's pretty small so it's not easy to photograph… A triple threat !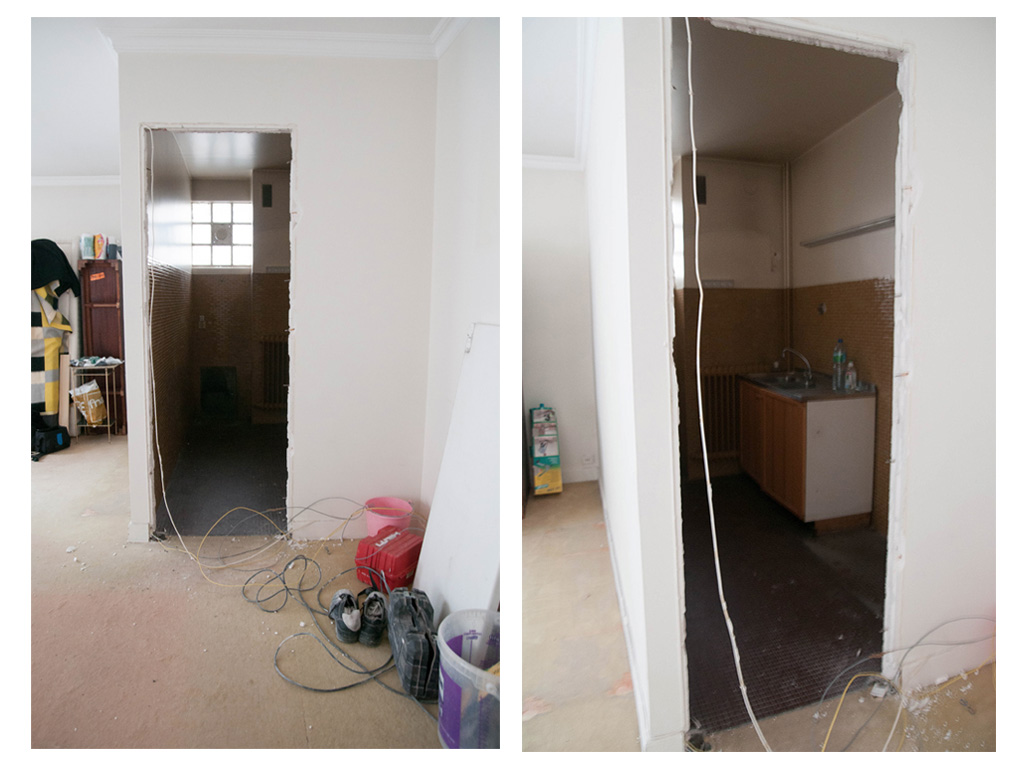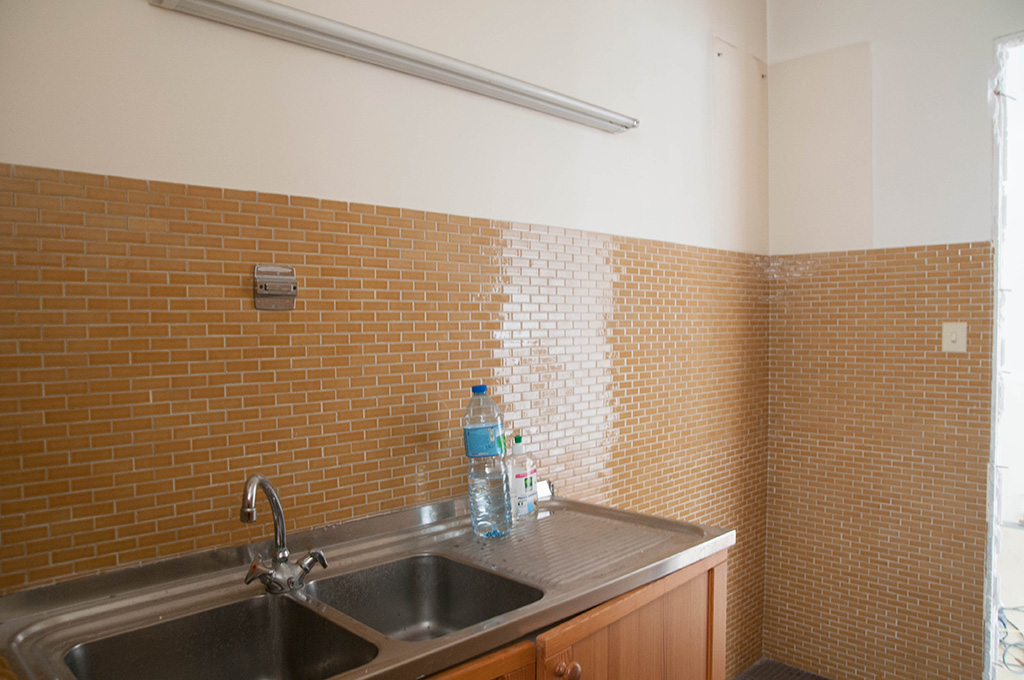 This is the only real one I could get.
And finally the guys started installing the railings for the "false" ceiling. Basically all the electricity needs to be rewired because it's not up to code anymore. The walls being concrete, the contractor proposed we just lower the ceiling a bit and allow all the cables to go over them instead. It's easier access if needed and will save a lot of time and noise in the process. So these rails will go all over the apartment, and once every outlet and pendant placement is decided on (we'll do that this saturday), they'll set up the cables and put the ceilings up.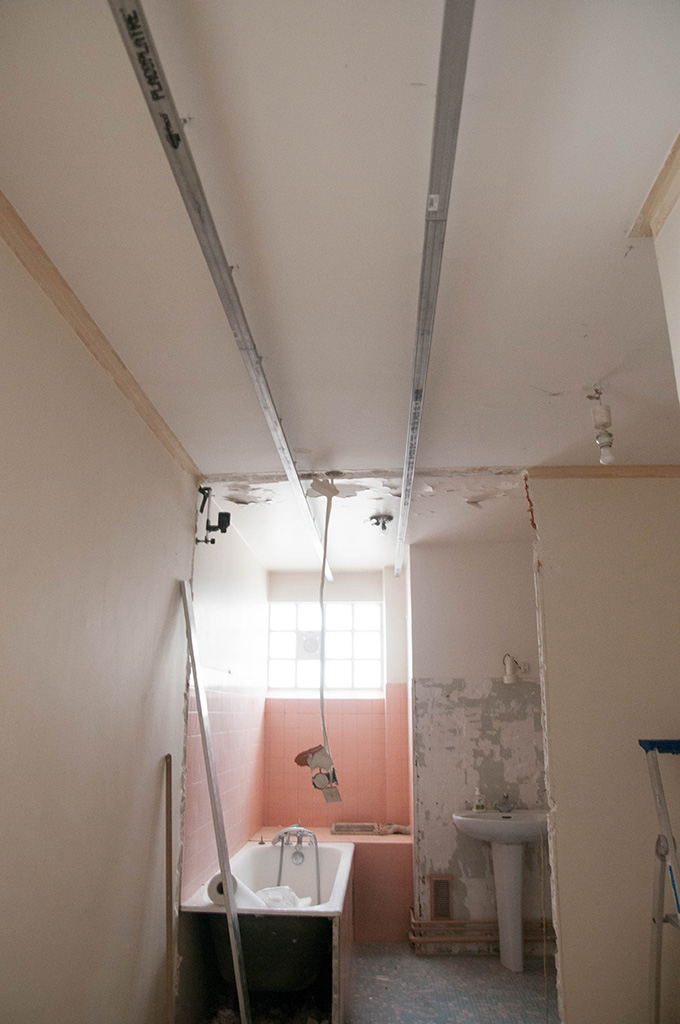 Obviously I'm getting ahead of myself and this won't happen right away, but at least that's the process !
There a little more demolition to come before we start building back up to a pretty new home, but the most exciting is coming soon. In a mere two weeks, we're changing the bay windows. Awww yeah ! I'm super excited about this because the current ones are an eyesore, the blinds barely work and the doors don't lock anymore. The new ones will have electric blinds and they'll be just … perfect. It's wrong to be this excited about windows, I know…
I'll keep you guys posted if any other big changes come in before then !
Have a great week !