Hey guys !
So as promised last week, today I'm revealing some progress for my desk makeover !
A few weeks back I happened upon this gorgeous 60's desk ! You may have spotted it on some other pictures in the meantime. I loved the shape, the feet (I die), and of course : the price. This baby was a mere 60$ and pretty close to home. It wasn't in perfect condition but I had big plans for a makeover so I didn't care.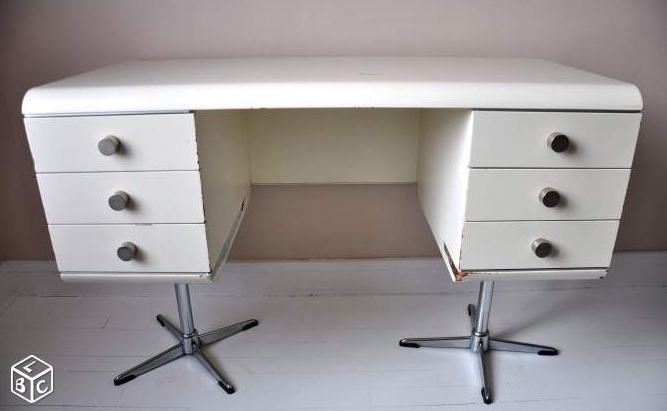 So I dialed 555-Mathieu and we rescued it from boredom to give it a new, fabulous life. We did have a harder time than we thought, turns out it weighs a mega-ton (technical term) and I almost lost a finger putting it into the trunk. Almost is the important word here. A knight in shining armor did help us out of the blue in the middle of a Paris busy street and helped my much-stronger brother maneuver the desk while I stood back and contemplated my lack of muscles… Stereotypes busted : people in Paris are not always rude 🙂
It fit perfectly at home and all was well with the world, until I put my desk chair next to it. The opening between the drawers was too small for my chair. Damn. Now you could say that's fine, change the chair and Bob's your uncle. Well… I had big plans for that chair as well, so that's not gonna work. And, being a small apartment dweller, well, a chair that goes all the way under a desk is a much needed space gain. So I waited and plotted for a while and finally decided the makeover was going to include some size changes as well !
We decided to remove the top and replace it with a larger slab of MDF, allowing us to push the drawers further apart. Sounds simple enough, right ? Unfortunately, the desk had other plans. After trying to pull apart the top we quickly realized its vintageness came with some fun obstacles : like very strong, 50 year old glue. Yup. So we spent quite a lot of time trying to pull apart a top glued to metal rails. I couldn't quite capture that frustration with a picture so just imagine two very annoyed people with sore arms on the floor of a small, colorful, Parisian apartment. It's quite poetic. But alas, we did vanquish the desk ! (It did lead to some minor damage but nothing I can't fix)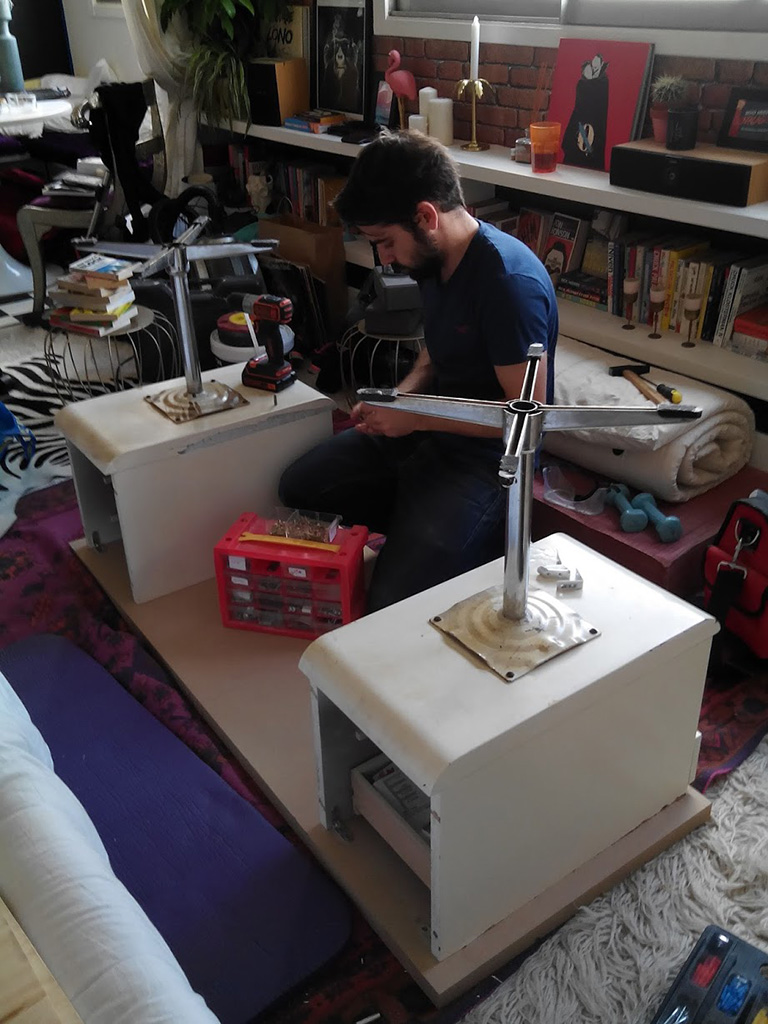 Here, the great warrior celebrates his victory by standing on his mighty opponent.
From here on out, piece of cake ! Mathieu just put some brackets at the top of the drawers and secured them to the top. The wood is very heavy so he assured me it would do most of the work in keeping it still.
Flipping it wasn't that easy either, we removed one very heavy top to put in … well another.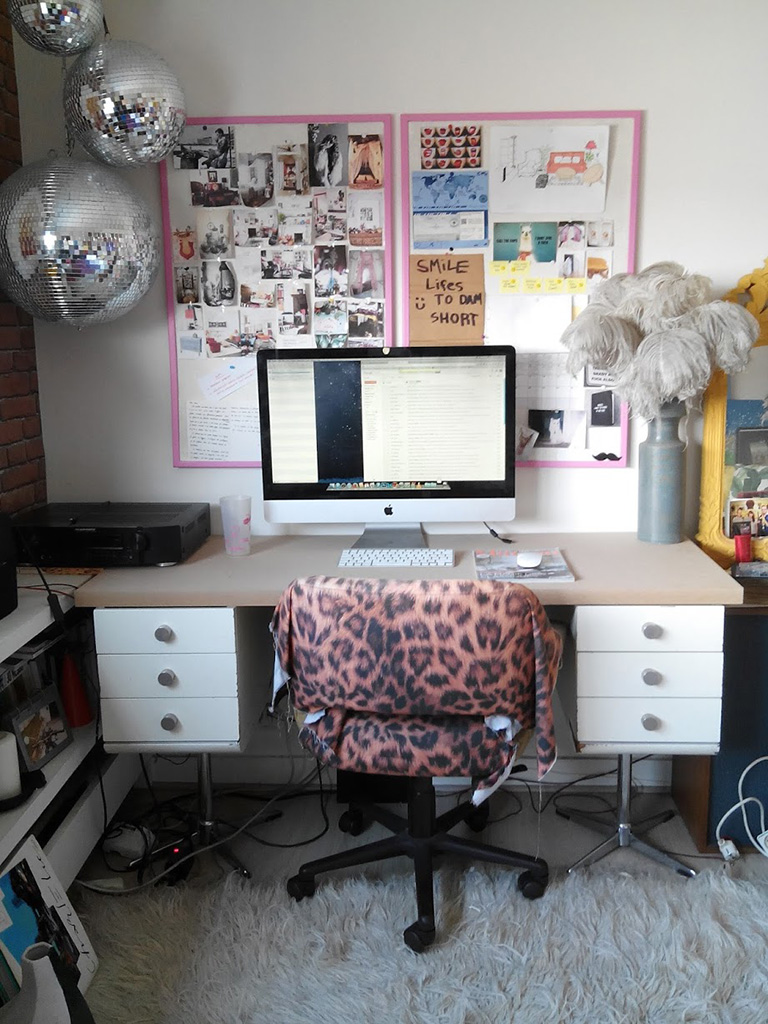 And we're off ! So as you can see, it looks pretty cool and my chair fits perfectly ! Now the chair is another issue, I'm trying to figure out how to best cover it but that is the fabric I'm going with. You should not be surprised by this.
So you ask, what's next ? Well, I promised a fabulous makeover and fabulous it shall be. I'm just gonna give it to you straight : Green lacquer, Gold accents. Like this :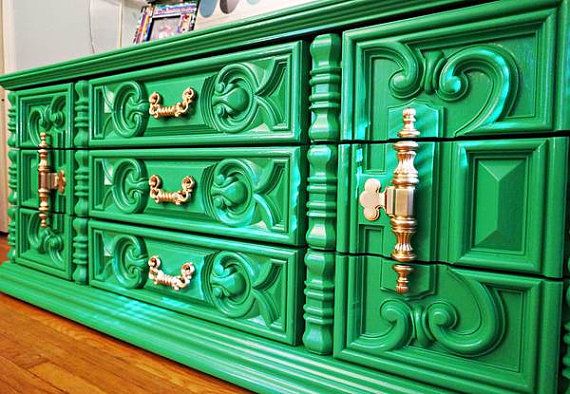 I've been saving this corner of the technicolor dream house for some green goodness and this is it ! I love, love, love green and I think the desk will make a big impact. It will also be very shiny, which as we all know makes things perfect. It will of course be mixed in with the rest of the room by adding some fun color combos. I made a small mock-up on Photoshop to show you what I mean :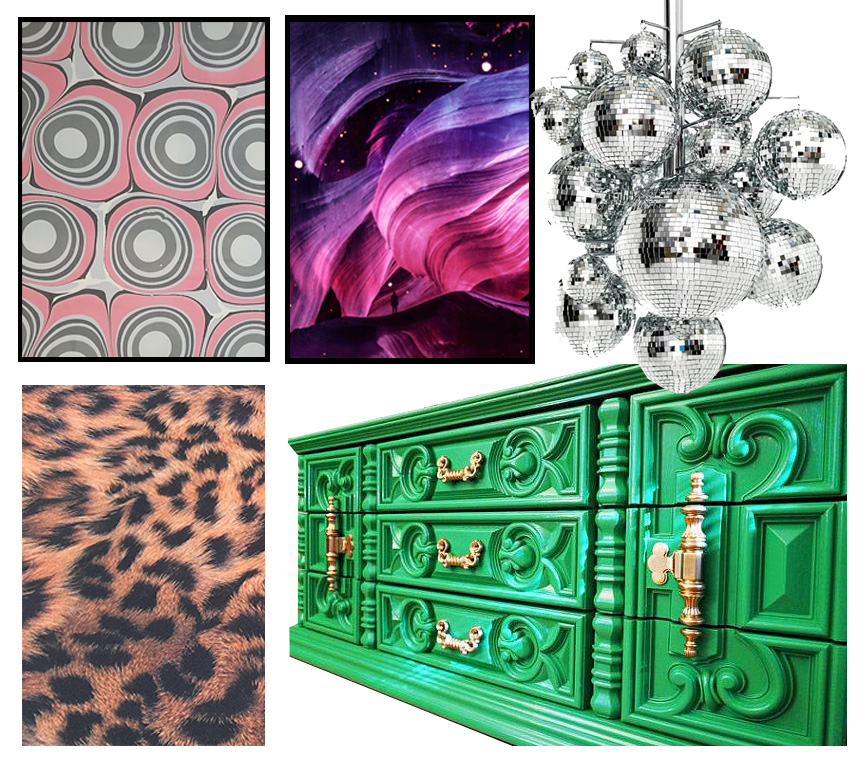 I love the mix of pink and green in a room, as well as purple and green so I decided to mix them all and create a fantastic color threesome ! Throw some leopard and discoballs in there and we're done !
Can't wait to get started on the painting as well as hunting wild door handles to finish up this project ! I'll keep you posted on the progress.
Meanwhile I'm still working on my Beetlejuice wall in the entryway, it's looking really, really good. I ran out of tape so I'm waiting for my second order and I'll probably have a full update by Friday, fingers crossed!
Next week I'll be going to the great Foire de Chatou ! It's a gigantic flea market outside of Paris. If you're interested (and in Paris), it's still going and will be until March 19th. I highly recommend it, it's got great stuff for all prices, and great food ! Enjoy it while it's still sunny !
Have a great week everybody !
Save
Save