Welcome to Thomas & Agathe's !
They have just moved into this very pretty Parisian apartment together, and Agathe, being completely design-obsessed, couldn't wait to remake it into her dream home. First up : the living room.

She started by storming the breakfast nook (on the other end of the living room), and inside it created a giant bookshelf, painted entirely in green – her number one color inspiration for the room. When it came to the rest of the living room however, she was at a loss. They are looking for a confortable, cosy space to relax, read, watch tv, and have fancy dinner parties.
The problem is that Agathe has two brains : she loves dark and mysterious decor as much as light and bohemian ones.
I made her a moodboard for each, taking into account their limited budget and their existing furniture, as well as the green of the breakfast nook, so she and Thomas could visualize these looks a little better and make a decision.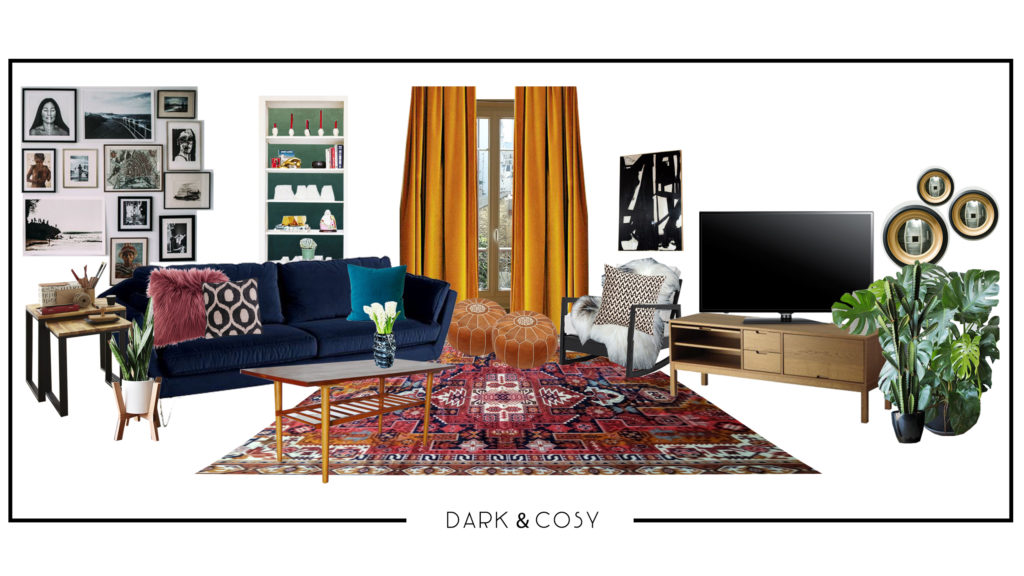 In this Dark & Cosy version, the room is geared toward an abundance of textures, especially velvet and faux-fur, to create a warm and inviting space. A colorful persian rug – pure love at first sight – draws the attention as you walk in and sets the tone for the room. Every piece of furniture is made of wood, a nod to scandinavian style, and the floor plan leave Agathe the chance to fill the space with as many plants as she wants.
The main elements of the room are either blue or green – including the hand-made ombré wall as a background to the built-in shelves – as an echo to the breakfast nook without having the paint any walls. As a statement, large mustard yellow velvet curtains come in to add a touch of luxury, and surprise.
It's a slightly more masculine look, taking into account Thomas, while still letting Agathe have her fun with some wild decor !
At the opposite, we have a Modern Bohemian version of the space. While keeping the same blue and green base, the rest of the room is filled with much lighter patterns and tones. Sheer curtains with delicate embroideries, and a refreshing, light green modern floral wallpaper as a background to the built-in shelves become the more subtle focal points. The geometric black and white shag rug takes a back seat visually but provides a lot of coziness. In this space, Agathe can add as many DIY shelves as she wants for her plants and accessories.
It's a less adventurous look, but much more fresh and modern. It's also easier to "re-adjust" between too masculine and too feminine, since the palette is neutral and everything lies in the accessories. Remove a few pompoms and add more geometric shapes like the rug, and you'd get a perfectly neutral space.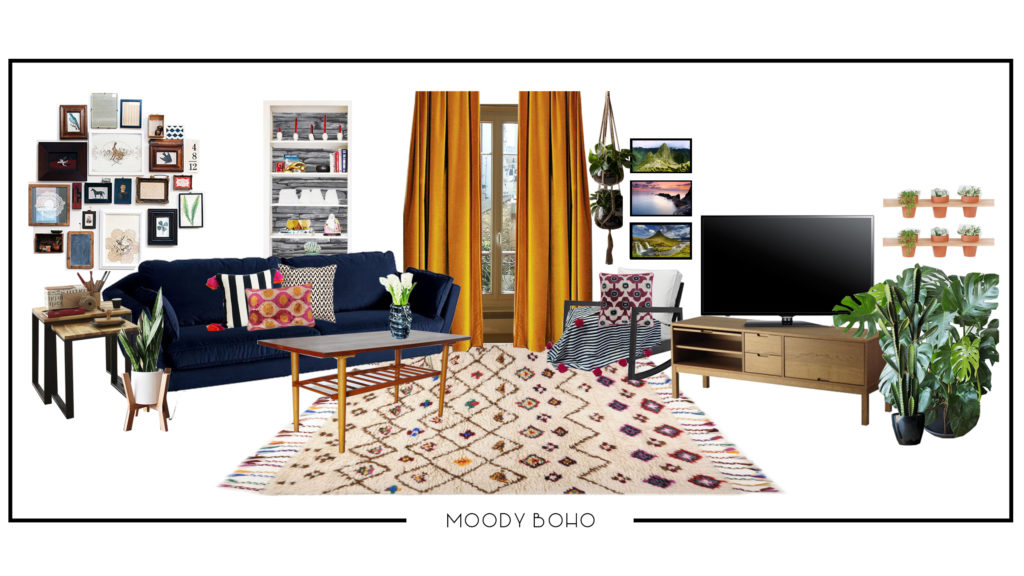 Agathe was still torn, now she loves both choices even more, so I decided to try a hybrid : Moody Boho.
I took her favorite aspects of each version : the dark tones of the first version to avoid a too "basic" look, and her love of pompoms and plant hangers for her bohemian heart ! We also seized the opportunity to add her dream rug, unfortunately too expensive at the moment …
The project is still on going, but while I keep tweaking it, don't hesitate to tell me what you think !